As our scientific understanding of PFAS, or Per-and Polyfluoroalkyl Substances, and their risks to both humans and the environment grows, these manufactured chemicals are receiving much deserved attention. PFAS exposure is pervasive – these compounds can be in the air we breathe, the foods we eat, the personal care products we use, the water we drink, and the food packaging products and non-stick cookware we use.
Today, particular attention is being paid by the Environmental Protection Agency (EPA), the Centers for Disease Control and Prevention (CDC), Food and Drug Administration (FDA), and other federal and state agencies as well as trade associations looking to better understand the specific risks of PFAS chemicals and develop PFAS exposure limits for both adults and children.
For example, FDA has identified six PFAS chemicals in particular (PFOA, PFOS, PFNA, PFHxS, HFPO-DA ⌈GenX⌉, and PFBS) found to be in human foods at levels of concern and for which toxicological reference values have been identified.
While most known PFAS exposure levels are low in the U.S., assessing the risk of any exposure is particularly challenging because exposure is cumulative, coming from many independent sources. Though it is not yet known how dangerous to humans these accumulations are, scientists are studying the effects.
One thing is certain: Exposure to PFAS is directly related to the environment, and industries are responding to both regulatory questions and consumer concerns. Determining whether products exceed acceptable levels of PFAS chemicals requires validated analytical PFAS testing methods.
The Dangers of PFAS Exposure
Though science continues to study the risks of exposure to PFAS chemicals in humans, animals, and the environment, there are certain things that are known today. Importantly, given how long PFAS chemicals have been in use and how widespread, the likelihood is that most have been exposed to at least some of these potentially harmful chemicals.
Current research suggests that high levels of PFAS exposure in particular can lead to adverse health outcomes, but those outcomes can vary by person and type of exposure. Less is understood about low levels of PFAS exposure, particularly in children, though research is ongoing.
Currently, it is believed that PFAS exposure may:
Cause developmental delays in children

Interfere with the body's natural hormones

Increase the risk of some cancers

Increase cholesterol levels and obesity risk

Reduce immune response to fighting infections

Reduce vaccine response
What are PFAS Limits?
While there are currently no FDA limits or requirements for PFAS testing in FDA regulated products, there are EPA standards, including new proposed standards for drinking water, as well as some industry standards.
For example, the International Bottled Water Association (IBWA) requires its member companies to comply with the following PFAS limits:
5 parts per trillion (ppt) when one PFAS chemical is present, or

10 ppt when the product contains multiple PFAS, and

annual PFAS testing.
The cosmetics industry is also under scrutiny for use of PFAS as an ingredient, particularly after a 2021 study found that 52% of 200 cosmetics products tested contained PFAS even though only one of the products tested included PFAS chemicals on the label.
Importantly, many companies are driven to understand PFAS exposure in their products. Greater interest and awareness of health concerns and how those may be tied to environmental exposures like PFAS chemicals is a big motivator.
"We test a wide variety of products, from cosmetics, to personal care products, to packaging," said Arianna Klassen, an associate at Micro Quality Labs (A Certified Group Company) in Burbank, California, who is increasingly working with clients concerned with PFAS exposure in their products.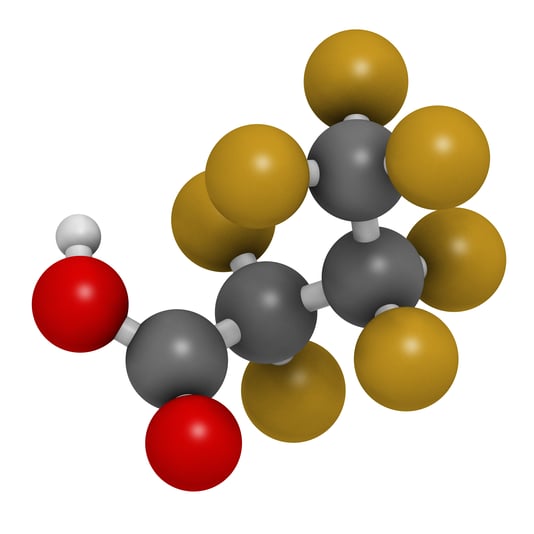 PFAS chemicals are pervasive and may be lurking in our food, water, cosmetics, and more.
Laboratory Testing for PFAS Chemicals
PFAS testing is a straightforward process. Companies send samples of their products to the laboratory, generally one sample for each SKU or formulation they make. From there, our lab runs tests using FDA validated methods on LC/MS instrumentation for 15 PFAS chemicals in ISO 17025 accredited laboratories. (See the full list of PFAS chemicals for which we test here.)
Results are returned in as little as two weeks, uploaded onto a client portal and/or emailed to manufacturers.
Undoubtedly, any positive results are a client concern, particularly when the results indicate higher levels of PFAS chemicals. "In those cases, we advise our clients to speak with a regulatory expert about ways in which PFAS chemical exposure can be lowered in their products."
Micro Quality Lab's regulatory partner, EAS Consulting Group (A Certified Group Company), works in this capacity, conducting risk assessments to determine compliance levels with state regulations and providing recommendations for next steps. Follow-up testing can then be conducted to confirm the effectiveness of any corrective action programs.
"This is cutting edge," said Klassen of Micro Quality Lab's PFAS chemical testing capabilities, and it is certainly an area that will see increasing attention. Staying ahead of regulatory and consumer interest by understanding PFAS chemical exposure and creating action plans where indicated is an opportunity to ensure your customers' concerns are proactively addressed.